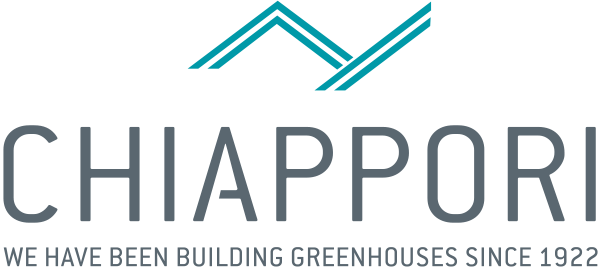 Chiappori's greenhouses Ceriale
Chiappori s.r.l., founded in 1922, for three generations has specialized in the creation of greenhouses and protected environments adaptable to any agricultural and floral production.
Thanks to the engineering and carpentry capabilities acquired, Chiappori s.r.l. is able to supply greenhouses of any shape and size. From small greenhouses suitable for the spaces of your garden, to large greenhouses complete with any type of system.
Professional greenhouses custom built
Our greenhouses, are designed and dimensioned with the UNI-EN 13031-1 or in compliance with the standards in force in the country of installation, and completely custom-built to the customer: from the dimensions, not standardized, to the coverings, consisting of materials chosen according to the production needs of the greenhouse. In our workshop in Ceriale, in the province of Savona, we manufacture all the metal structures that will subsequently be assembled on site.

Here at Chiappori s.r.l. we mainly produce three types of different greenhouse structures: the horizontal beam greenhouse, the gable type greenhouse and the single pitched roof greenhouse. Differentiated by the beams positioning and the roof shapes, they are long lasting solid structures.

This is a structure whose shape allows a more ventilated and cooler indoor climate and easier
control of enviromental parameters.

The gable type greenhouse is a classic structure consisting of inclined beams that support a double-pitched roof.

This structure has a single inclined beam that supports a single-pitched roof, ideal in confined spaces.
One of the primary purposes of a greenhouse is the creation of an internal climate suitable for the needs of the production that it intends to activate. This is why we have different materials to offer adequate greenhouse covering.

The wide range of solar screens, selected from the best companies, allow the creation of a climate inside the greenhouse…

Photovoltaic greenhouses are normal structures adjusted according to specific requirements for photovoltaic modules installation, with the respect of two fundamental parameters:…
Why don't you ask us?
Do you have doubts about prices, materials, payments methods... whatever your question is, contact us. We will try to provide the most comprehensive answer to fill your doubts.
Contact us

Warehouse located in Albenga, is allowed for processing and uploading and downloading goods. The structures has a span between one…

Gable type wide span greenhouse used for experimentation, with a span between one column and the next of 10 meters….
Greenhouse with a bay of 12 meters and a span between one column and the next of 7,44 meters. It's…